An Ultimate Course Of Auto Digitizing With Wilcom Embroidery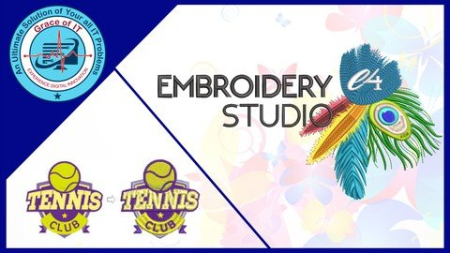 Last updated 3/2021MP4 | Video: h264, 1280x720 | Audio: AAC, 44.1 KHzLanguage: English | Size: 1.84 GB | Duration: 2h 29m
Learn Auto Digitizing for Embroidery by Ultimate Embroidery Digitizing Training with Wilcom Embroidery Studio
What you'll learn
Getting Started with Embroidery Digitizing
Overview of Wilcom Embroidery Studio
Machine Format and Machine area
Digitizing with Ease
High quality Auto digitizing
What is Vector and vector File Formats
how to import a design work to wilcom
How can we use vector graphics file for auto digitizing
What is raster and raster File formats
How to auto digitize an image/raster file to embroidery
reshaping auto digitized motif
editing auto digitized motif to get a 100% auto digitized motif
work with entry/exit points of an embroidered motif
understanding stitch angles for an embroidery motif
how to travel an embroidery design for machine
Exporting an embroidery file to required machine format
How to finalize a digitized Embroidery Task
Approval Sheet & design properties
Design Library & Options
Covering an embroidery Motif to Image/Raster
Projects & Assignments
Requirements
Prior knowledge is not needed.
You need Wilcom embroidery software installed on your PC/Laptop
Any version of wilcom will be OK preferably Wilcom E4.2 with Coreldraw 2018
Exercise Files and Study Guides are provided.
Description
This is an ultimate course about Auto Digitizing which will take you from Zero level to the level of absolute expertise. We have included everything in this course which is applied in professional and competitive market. By completing this course you will just be able to digitize just with few clicks.If you are interested in working as a freelancer while working as an embroidery designer or digitizer this course for you, we discussed each and every aspect of embroidery digitizing. This is a complete package for bners and existing users who are interested in learning professional auto digitizing by wilcom embroidery studio. My Expertise I have been working in this field for 15 years now. I have also been teaching embroidery digitizing for more then 10 years and thousands of students are working in this field after learning digitizing skills from us. We can assure you then 100% satisfaction in guaranteed with this course. We will keep improving our course but at this moment this is an ultimate complete course for students and are interested in learning professional Embroidery Auto Digitizing course. Course Contents are :Understanding Embroidery Terms Defining Auto Digitizing and its uses Explaining about Vector and raster Artwork for Embroidery Digitizing Converting a rater graphics to Vector and then embroidery Tracing an image to vector and embroidery control points of Wilcom Embroidery Studio Stitch types and their parameters Stitch effects and their technicalities Traveling and settings a design working with Entry and Exit Points for embroidery Designs Reshaping your embroidery motifs to get an outclass professional motif by Auto Digitizing. Setting design for machine area understanding machine areas for embroidery motifs understanding file formats in wilcom embroidery studio working with lettering and options working with monogramming and parameters Understanding about shaping and reshaping finalizing a design working on product visualization and settings settings the design properties. working with approval sheet and options getting Hard-copy and soft-copy of the approval sheet Converting an embroidery motif to high quality image converting an embroidery motif to Vector Exporting to machine format for output. and many more about embroidery Auto Digitizing. we also explain about lettering and monogramming in the course, so after completing this course it will be very much possible to work professionally in the embroidery market. You will definitely get this very professional course which will lead you toward ultimate success in the field of embroidery digitizing. we have already mentioned everything which will be very useful specially for freelancers in this field.
Overview
Section 1: Introduction and Overview of Wilcom Embroidery Studio
Lecture 1 Getting Started with Wilcom Embroidery Studio
Lecture 2 Basic details, View Options, Stitch types and control points
Lecture 3 Reshaping and Toolbars in Wilcom Embroidery Studio
Section 2: Working with Artwork in Wilcom Embroidery
Lecture 4 Importing an artwork into Wilcom
Lecture 5 Artwork and file formats in Graphics Workspace
Section 3: Working on Vector Graphics Files for Embroidery in Wilcom
Lecture 6 What is vector and converting vector to embroidery
Lecture 7 Editing to an auto digitized Vector File
Lecture 8 Travelling for an Auto Digitized Embroidery Motif with color object list
Lecture 9 Finalizing and embroidered vector and exporting to machine format
Section 4: Photo Digitizing Options in Wilcom Embroidery
Lecture 10 Photo Flash and Color Photo Stitch in Wilcom
Section 5: Outline Tools and Options in Wilcom Embroidery.
Lecture 11 Outline Tools for Auto Digitizing in Wilcom
Lecture 12 Motif Run tool and Options for auto Digitizing
Lecture 13 Comprehensive Explanation of Offset and outline tools
Section 6: Raster or Image to Embroidery by Auto Digitizing.
Lecture 14 What is raster & Converting a raster to embroidery
Lecture 15 Smart Design for Auto Digitizing a raster and Editing.
Lecture 16 Important Tools for Auto Digitizing for Image or raster
Section 7: Working with Lettering in Wilcom Embroidery Studio
Lecture 17 Lettering Options in Wilcom Embroidery
Lecture 18 Monogramming Tools with all its options in Wilcom
Section 8: Miscellaneous videos about Embroidery Digitizing
Lecture 19 Stitch Effects and stitch types for stunning embroidery
Lecture 20 Design Properties with approval sheet and product visualization
Lecture 21 How to Get Embroidery Image with options about product visualization
Perfect for anyone looking to start or develop their career in the Embroidery Designing Industry.,Absolute bners will be able to master the Wilcom Embroidery Digitizing from the very bning to advanced level.,Self-taught users and existing professionals can use the course to take their skills and knowledge to the next level, refine their workflows and learn to do everything the right way!,Existing and more experienced users of Wilcom Embroidery Digitizing may also discover hidden gems and workflows or catch up with all the new features released in Wicom Embroidery Studio E4.2.,Perfect for anyone who want to make their freelancing career in digitizing.
HomePage:
https://www.udemy.com/course/learn-embroidery-digitizing-with-wilcom/
DOWNLOAD1dl.netuploadgig.comrapidgator.net